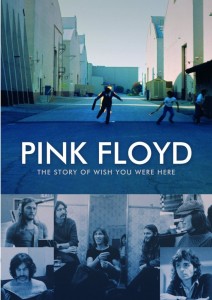 El próximo 25 de mayo saldrá a la venta un DVD que plasma la historia detrás del Wish You Were Here, uno de los discos más representativos de Pink Floyd.
Con título The Story of Wish You Were Here, se tratará de un documental de 90 minutos que muestra las entrañas del álbum, cómo se grabo, cómo se creó la portada, los estudios, los ingenieros de audio, temas como el por qué se dividió Shine On You Crazy Diamond, además de entrevistas con todos…neta todos… Roger Waters, David Gilmour, Nick Mason y hasta material de Richard Wright, algún material con aparición de Syd Barret y de Roy Harper, la voz de Have a Cigar y mucho más contenido.
Estará disponible en DVD y Blu-ray y desde ya lo puedes pre-ordernar en amazon.co.uk
Como verás, la portada de una idea de lo que puedes  esperar.